In a startling turn of events, Voice.com, the platform that recently made headlines for banning certain artists, has dropped a bombshell that nobody saw coming. On September 13th, 2023, Voice.com announced its decision to cease operations. This decision sent shockwaves through the art world and the NFT community, leaving many questioning the future of their digital assets and creative endeavors.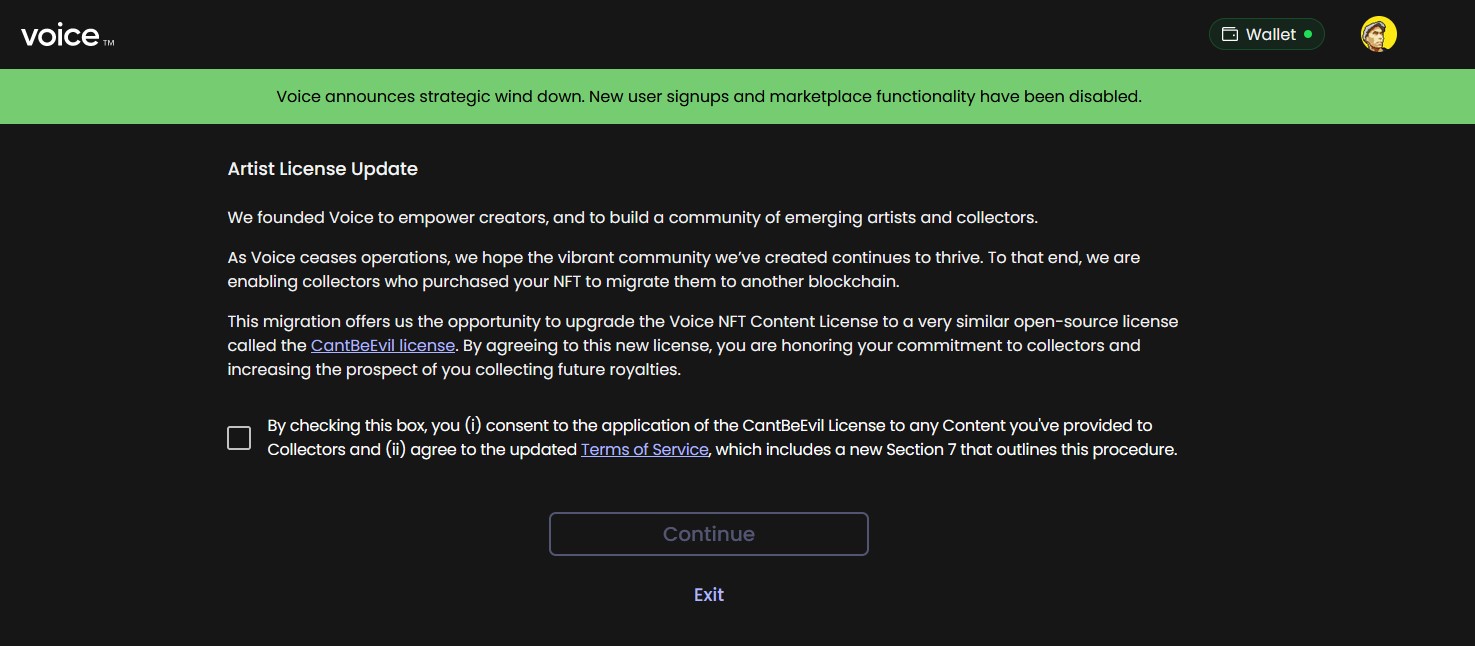 Voice.com's Founding Vision:
Voice.com was established with the noble goal of empowering creators and fostering a thriving community of emerging artists and collectors. Over the years, it attracted artists from various backgrounds, offering them a platform to showcase their talents and monetize their art through the creation and sale of NFTs (Non-Fungible Tokens).
Controversy and Censorship:
Voice.com had recently garnered controversy when it banned certain artists, raising concerns about the platform's commitment to artistic freedom and its role in determining what art should or should not be seen. This decision had already stirred debates about censorship in the digital art world, and it was clear that Voice.com was at a crossroads.
The Shocking Announcement:
On September 13th, Voice.com announced its decision to cease operations, leaving artists, collectors, and the entire community in shock. The announcement read, "As Voice ceases operations, we hope the vibrant community we've created continues to thrive. To that end, we are enabling collectors who purchased your NFTs to migrate them to another blockchain."
A New Beginning with CantBeEvil License:
In the midst of this upheaval, Voice.com offered a lifeline to artists and collectors. They proposed migrating NFTs to another blockchain and upgrading the Voice NFT Content License to a similar open-source license called the "CantBeEvil License." This license aims to continue honoring the commitment made to collectors and potentially provide artists with future royalties.
The announcement required artists to consent to the application of the CantBeEvil License to any content they had provided to collectors and agree to updated Terms of Service that included a new Section 7 outlining this procedure.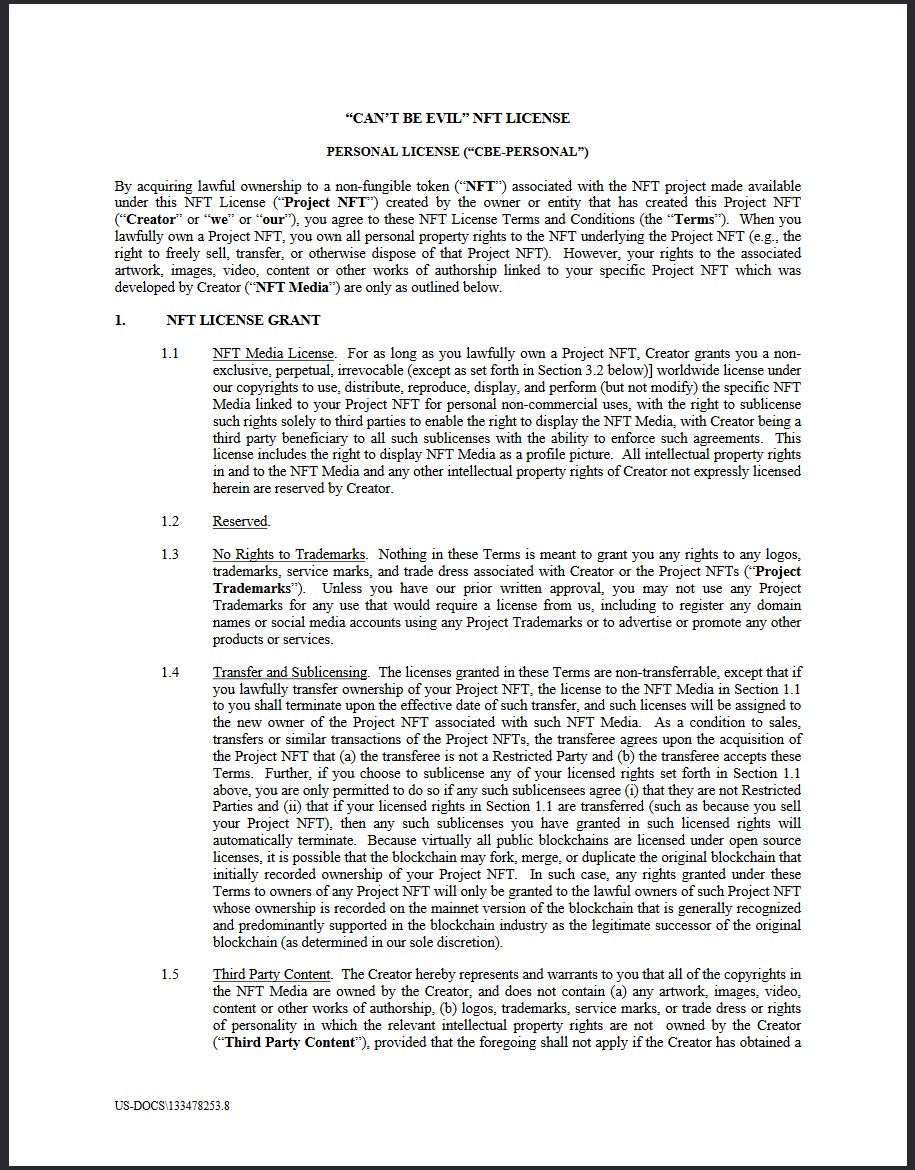 forgive me if I'm skeptical, but we will have to read this VERY carefully and break it down on the next show on 1 PM Sunday 9/17/2023.
The Future of Voice Artists:
For many artists, this announcement brings a mix of emotions. Some may see the migration to a new blockchain and the introduction of the CantBeEvil License as a fresh start and an opportunity to rebuild their careers. Others may remain skeptical, given the controversy that surrounded Voice.com in the past.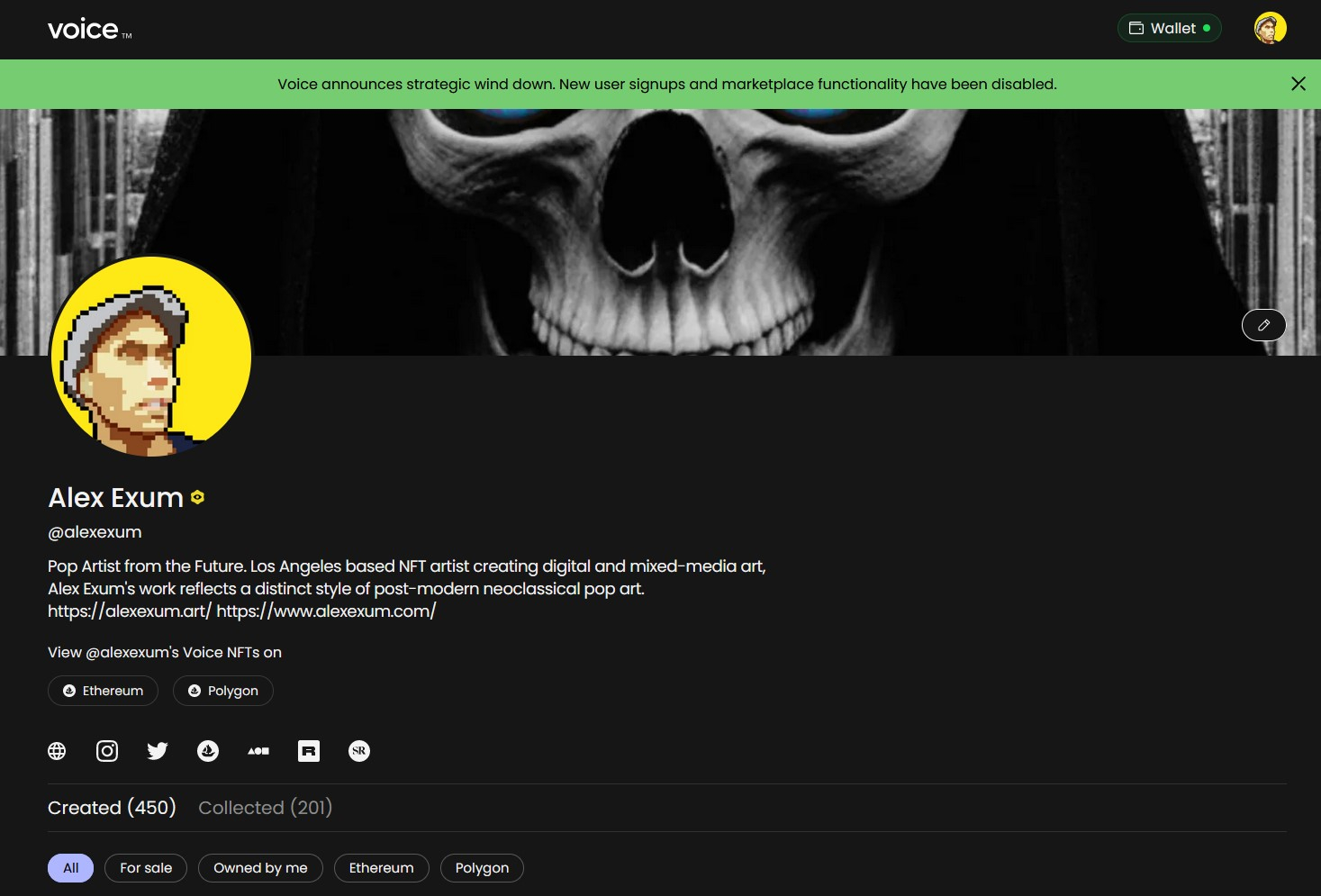 "Voice announces strategic wind down. New user signups and marketplace functionality have been disabled."

Conclusion:
The unexpected shutdown of Voice.com has sent ripples throughout the art and NFT community. While the platform's decision to migrate NFTs to another blockchain and introduce the CantBeEvil License may offer a lifeline to some, it leaves others questioning the stability and reliability of digital platforms for artists.
As the dust settles, it remains to be seen how artists and collectors will adapt to these changes and whether the CantBeEvil License will truly serve the best interests of the creative community. 
One thing is clear: the impact of Voice.com's shocking announcement will be felt for a long time to come, reshaping the way artists approach their digital art and NFTs in the future.

P.S. for the entire trajectory of this recent bombshell info you can read the progression of my predictions about Voice.com going under here:
Sep 8, 2023 Voice.com: An Artist's Nightmare - Why Trust is Shattered
Sep 9, 2023 Voice.com: A Murky Echo Chamber for NFT Art - Why Serious Collectors Look Elsewhere
Sep 12, 2023 Voice.com and The Great Digital Art Heist: How an NFT Marketplace Disrupts Art and Artist's Rights