'Dirty Mona' #3 Canvas Portrait (24x36)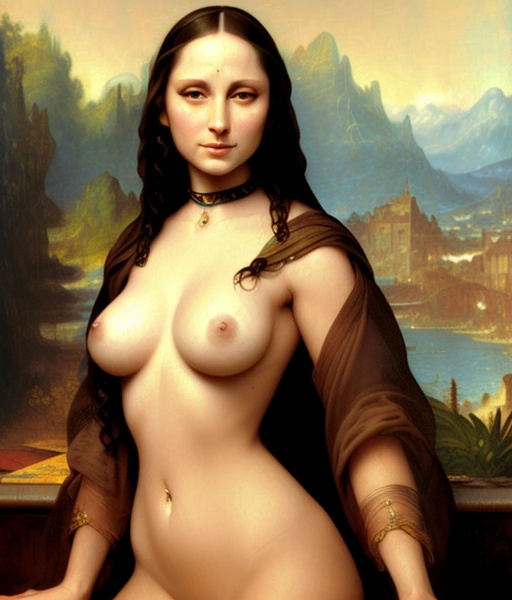 'Dirty Mona' #3 Canvas Portrait (24x36)
Alex Exum's luxurious canvas series, "Dirty Mona", sashays into the modern art scene with a sense of mystery and allure that is undeniably captivating. Unabashedly flirtatious and exquisitely decadent, this series offers a tantalizing twist on a familiar face — the enchanting Mona Lisa.

Each canvas is a sumptuous feast for the eyes. At first glance, Exum's creation is reminiscent of da Vinci's original masterpiece; that inscrutable smile, those penetrating eyes. However, a closer look reveals a seductive subversion that is quintessentially Exum. Playing with the chiaroscuro technique, Exum brings out Mona's features in a bold and alluring way, revealing an untamed spirit beneath the softness of her traditional portraiture.

The color palette, rich in velvety maroons and smoky blacks, punctuated by suggestive splashes of gold, transports the viewer to a world that flirts with the line between opulence and grunge. This vision of Mona is at once unapologetically irreverent and deeply reverential, hinting at the layers of complexity that shroud every woman.

Exum's use of texture is nothing short of seduction by touch. The application of thick, extravagant paint strokes draws the viewer's hand as well as their eye, encouraging an exploration of Mona's rugged elegance. His technique brings a palpable warmth to the canvas that tempts and tantalizes, daring the viewer to step into this captivating liaison between classical and contemporary art.

The "Dirty Mona" series embodies a flirtation that whispers sweet nothings to the inner rebel in us all. This is not just art, but a sensuous waltz through time, a provocative smirk at tradition, and a daring nod to the future. With each piece, Alex Exum seductively invites you to see Mona, and perhaps even yourself, in a new, exhilarating light.